Hire a car with a driver for a one day trip in Morocco is a service provided by Red platinum tour company to different cities and regions, from Marrakech to Essaouira, Ouarzazate – Kasbah Ait ben Hadou and Ouzoud waterfalls and more.
Our selected drivers are well experienced, knowledgeable and local expertise, our cars are well maintained and equipped with latest technology and comfort.
Hire your car with a driver with us and enjoy all these benefits.
Hire a car with a driver for Essaouira day trip
Essaouira or the windy city is a beautiful Beach resort holiday in Morocco. Its weather & location on the Atlantic Oceanside allows it to be among the most visited cities in Morocco and a popular one day trip from Marrakech and Agadir. It's a favorite place for windsurfers. The places you must visit once you are in this beautiful and quiet city are the old Portuguese Medina surrounded by a rampart. These city walls were built in the 1760s by the French military to protect the town and the port from raiders, the Skala with its Bronze cannons lined up along the wall, Essaouira's Souk where you can practice your bargaining with local craftsman selling their products, the port where you can enjoy seeing fishers mending nets, a promenade on beachfront with possibility Camel ride and Horse ride!
There is many ways to get into this beautiful city from Marrakech or Agadir such as public transportation ( taxi, buses or self drive car ), but the best way to visit this seaside city is by hiring a car with a driver, red platinum tour has variety of cars with well experienced and multilingual drivers.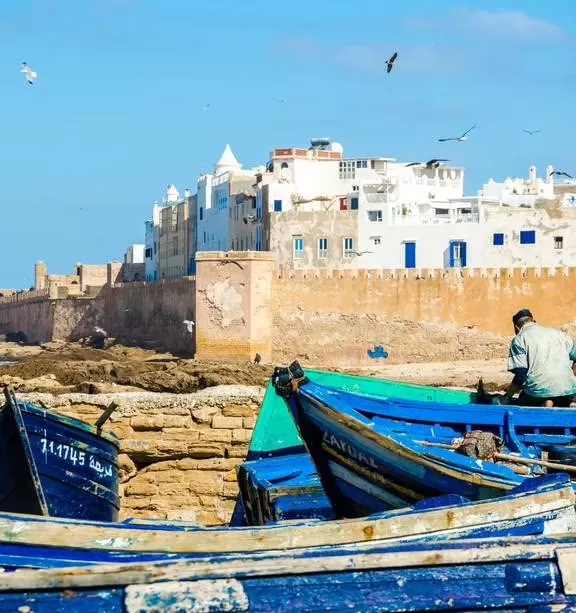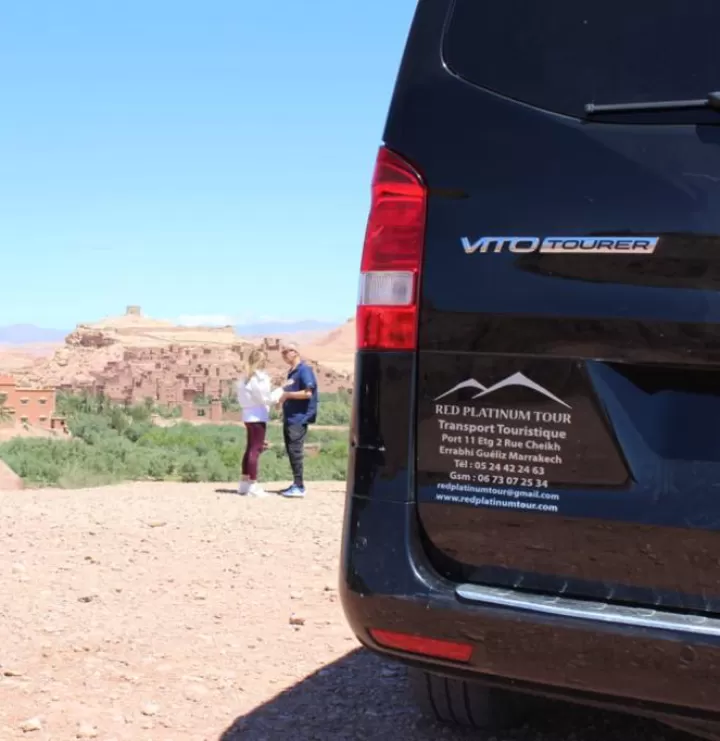 Hire a car with a driver for one day trip from Marrakech to Ouarzazate and Kasbah ait ben haddou
Taking a day trip from Marrakech to Ouarzazate city and Kasbah ait ben Hadou is one of the most popular one day trips in Morocco, the city of Ouarzazate is 200km to the south of Marrakech. It's famous & known by the door of the desert, and the Hollywood of Morocco. Many movies have been filmed in this city such as Cleopatra, Lawrence of Arabia, Kingdom of Heaven, Gladiator…etc.
Rent our car with a driver and enjoy the attractions of the area of Ouarzazate, visit the beautiful Kasbah of Taourirt, Atlas Cinema studio, Cinema museum and Kasbah Tefeltout. and just 30km to the north of Ouarzazate there is the famous Kasbah Ait ben Hado in Morocco or Ksar Thami Leglaoui ( Lord of the Atlas ) it's on the UNESCO World Heritage list, the Kasbah means ( fortified village ) built by Clay, it's located in the foothills on the southern part of the High Atlas mountains, in Oued Elmaleh Ounila valley, the Kasbah Ait ben Hadou was a trading post on commercial route between Marrakech and Timbuktu in Mali. Now it's one of most visited sites in Morocco.
By hiring our car with a driver for this one day trip from Marrakech to Ouarzazate and Kasbah ait ben haddou, you can expect a highly skilled and knowledgeable driver.
Hire a private driver with car for Marrakech sightseeing
To visit Marrakech with its attractions you need more than one day trip and hiring a car with a driver is the best choice for you! It's the tourism capital of Morocco with a population of one Million and Millions of tourists visitors every year. It has hundreds of 4star and 5 star hotels and hundreds of beautiful Riads, villas and Golf clubs.
The ancient part of Marrakech or as Moroccan call it the Medina with its narrow alleyways and hustle, you will find the main points of interest in a dizzying meld of new and ancient, the JEMAA EL FNA square is the vibrant hub of people from all over the world, storytellers, musicians and fortune tellers .the biggest Souk in Morocco it's a paradise for Shoppers and bargaining lovers! With thousands of handicrafts products like Babouche (shoe), Berber carpets, leather, perfume, spices and Djellaba. among things to do in Marrakech as well, is visiting its attraction and monuments such as Koutoubia Mosque, Madrasa Ben Youssef, Bahia palace, Badi Palace, Saadian Tombs, Dar Si Said Museum of Moroccan arts and crafts, Marrakech Museum, and the beautiful Majorelle Garden with Menara Garden in the new town.
Hire a car with a driver and enjoy the sightseeing of Marrakech, the jewel of southern Morocco.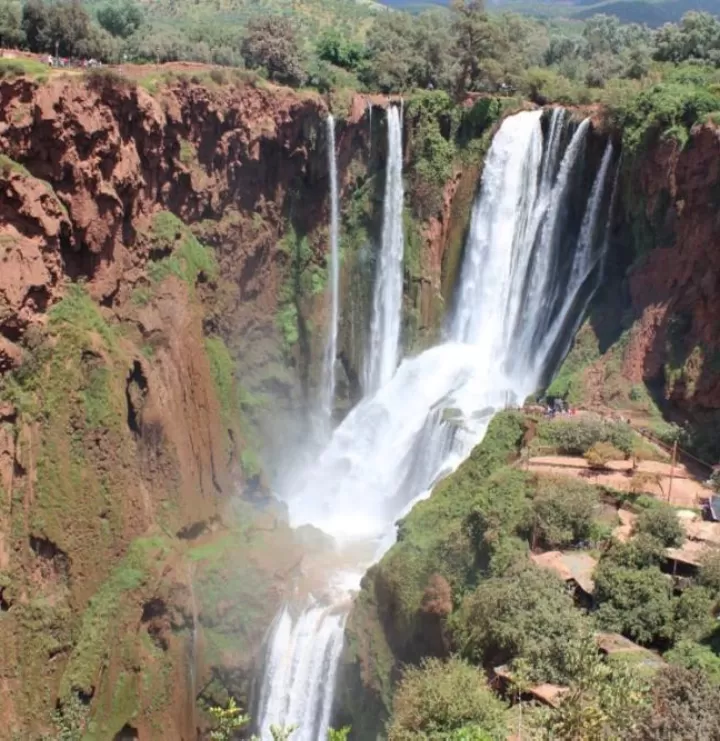 Hire a driver with a car for Ouzoud one day trip from Marrakech
Ouzoud Waterfalls one day trip from Marrakech is highly recommended for people who want to get away from the city crowds for a while and discover the beautiful, fascinating landscapes and nature in Morocco. Rent a car with a driver and visit this popular tourist destination, and one of the most photographed natural sites in Morocco, The location of this breathtaking waterfalls is 170km northeast of Marrakech in a beautiful nature nearest on the high and the gorgeous Middle Atlas Mountains, in a pleasant village where the treks and many walks take place among green valleys, the bottom of the falls is accessible through a shaded path of olive trees, Spring is the best time to visit waterfalls. On the way from Marrakech to Ouzoud waterfalls, you will pass through green fields for farmers and hundreds of Miles of olive fields.
Our drivers are familiar with this route, don't hesitate to book our car with a driver and let us show you Ouzoud waterfalls in comfort and style.
Hire car with a driver for one day trip in Morocco
Red platinum tour provides various modern and comfortable vehicles with experienced multilingual drivers with local expertise for Morocco's top day trips. If you are a travel agency, individual customer, if you are for business or leisure any size group we can take families, couples or large groups to the main best day trip destinations in Morocco such as Essaouira one day trip from Marrakech and Agadir, Ourika valley one day trip from Marrakech . Also we have convenient vehicles for desert day trips to Ouarzazate from Marrakech, Kasbah Ait Ben Hadou, one day trip from Marrakech, one day trip to Agafay desert from Marrakech and Imlil. for people who are looking for Mountain and nature we have a selected cars and drivers with knowledge and experience to ensure this service in a better condition and this is some popular mountain day trip, Ouzoud waterfalls one day trip from Marrakech, one day trip to Agadir from Marrakech & Essaouira, one day trip to Casablanca from Marrakech, one day trip to Tinmel mosque, Ouirgan day trip from Marrakech. We also have Minibus with driver for some Oceanside cities day trip in Morocco like a day trip to Eljadida from Casablanca, Day trip to Rabat, a day trip to Taroudant from Agadir, Day trip to Tafraoute from Agadir, Day trip to Tiznit from Agadir
When you hire a car with a driver with us, you can expect a range of additional experiences:
Comfort and well maintained cars.

Professional and well skilled driver with local expertise.

Flexibility

Safety and reliability